When choosing the best means of transport for your merchandise, be it by land, sea, air, rail, or multi-modal, companies must consider several elements that may have an impact on their budgets, goals, and logistics processes.
We show next the basic features of each means of transport:
By sea
Some cargo, due to its volume or weight, is better moved by sea. Some examples may be farm products by bulk such as wheat, corn, soy beans, and others; minerals and metals such as coal and iron; liquid products by the bulk such as crude and refined oil; and big-sized elements with irregular shapes like engines, coils, and propellers. These are the main advantages of this means of transport:
Ideal for large volumes. One ultra large container ship can transport up to 20,000 20-foot units.
It is the cheapest option for volume.
It offers vast coverage around the world.
By air
If you are looking for quickness, air transport is by far the best option, especially for computing, automotive, and retail companies that require fast restock to comply with their just-in-time obligations. Likewise, perishables such as food and some medicines are better transported by air because of their expiration dates. Because the cargo undergoes minimum handling, the probability of damage is very low. These are the main advantages of this means of transport:
Quickness
Minimum handling
Less paperwork
Reliability of delivery
Increased safety on damage and theft
By rail
It is useful for large volumes because all the containers are delivered in one single trip. When choosing this means of transport, we need to consider the need for another transport type – usually trucks or trailers – at each end of the rail trip to complete the delivery. These are the main advantages of this means of transport:
It is the most efficient among land transport. It can carry the equivalent of 400 trucks.
Fast deliveries in distances over 500 miles.
It is relatively safe.
By land
Includes wedges, trucks, tractors, full trailers, and semis. Highly used for short trips and, therefore, recommended for in situ flexible distribution. Extensively used in America, Europe, and Africa because you of the need only one customs document to deliver in several cities, states, and countries.
Some transport companies have adopted some air transport techniques: Fixed routes on preestablished schedules with constant times and rotation of compatible and interchangeable semis, looking to lower costs and times. To achieve this, they have increased the regularity of revisions with strict controls to find possible fissures, and the use of radioscopic or cobalt-ray inspections. Size, weight, and weather conditions must be considered. These are the main advantages of this means of transport:
Better profitability
Fast and scheduled delivery
Local, rural, and international deliveries
Savings in dunnage in comparison with other means of transport
Better traceability
Very cheap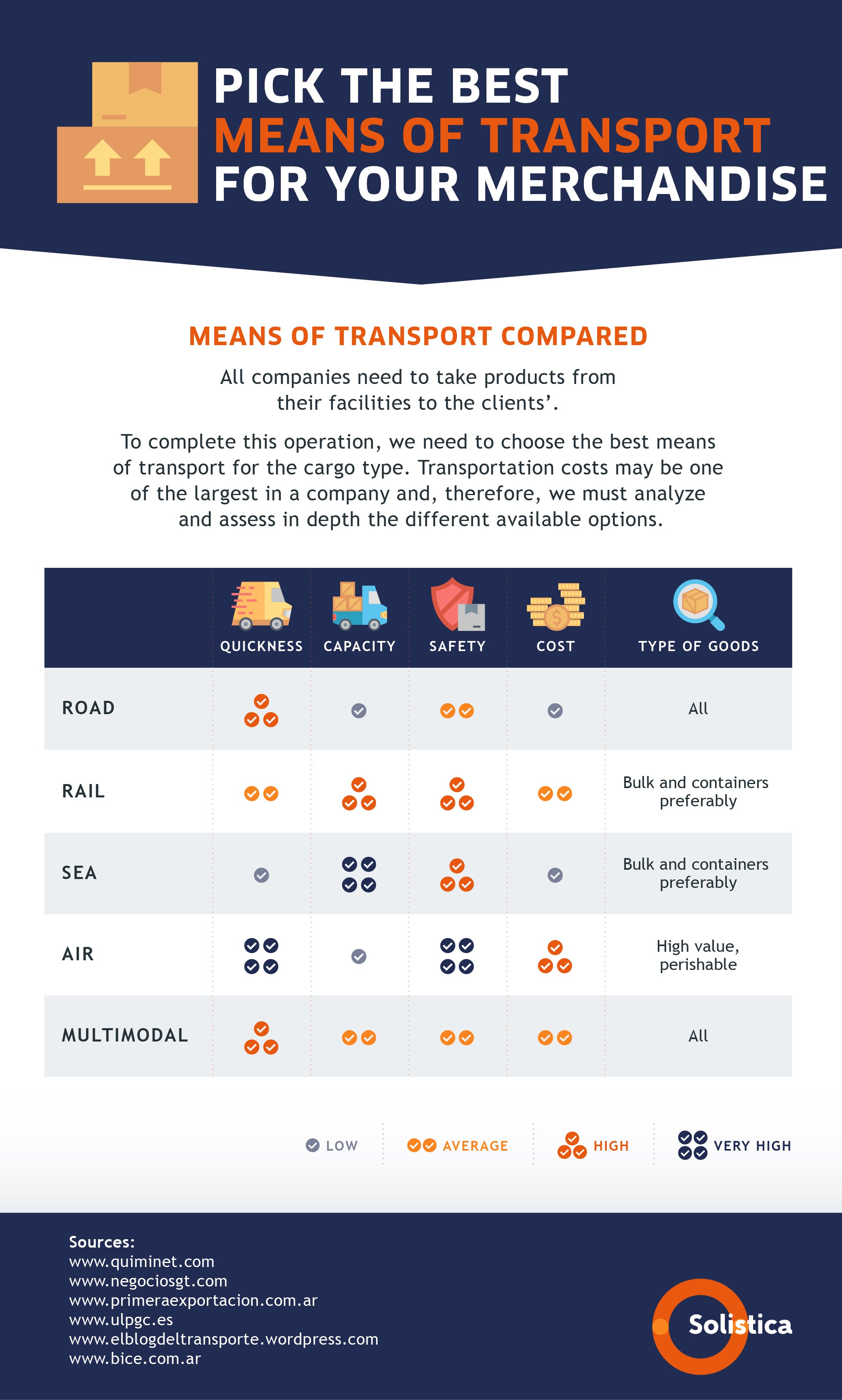 Before we decide on which means of transport to hire, we suggest carrying out an in-depth analysis that weighs the following aspects according to cargo type:
Features of the cargo: the size, shape, and weight of the cargo will also define the means of transport, as well as if it is dangerous, fragile, or high-value. We also need to check other specifications required by the products, such as temperature and humidity. Nevertheless, if we are looking for a transport that can carry all types of goods, then land or multimodal is our best bet.
Cost: this element is determined by the type and amount of goods to transport. Land transportation is the cheapest because suppliers do not have to make big investments in infrastructure and equipment. To transport good from other continents, it is always cheaper to use sea rather than air, although it takes more time. Regardless which means we choose, we must contemplate any hidden costs such as insurance and commissions.
Quickness: because of its ability to move cargo from door to door, land transport is the most convenient; however, for longer distances, air transport is more recommended. A lack of speed is one of sea transport's weaknesses because, besides travel time, its speed may be conditioned by the weather.
Safety: it refers to the protection the means of transport may offer the cargo; it includes special facilities such as refrigeration or special safety measures. Even though nowadays all means of transport have adequate safety measures in place, air transport is the safest and land the least safe.
Capacity: the means with the largest cargo capacity is sea transport, followed by air and rail because they exploit better the economy of scales concept, most of all in bulk deliveries. Nevertheless, there are more land transport options every day that can support and move different tonnage.
Reliability: it refers to how easy it is to find and hire the means of transport while considering weather and time issues such as rain, snow, fog, and storms that may affect the delivery of the cargo in terms of quickness, connectivity, and safety.
Other considerations: factors such as exports terms; place of origin and place of delivery; access to airports, seaports, and rail stations; and staff needed to handle the products.
Each means of transport offers advantages and disadvantages, what is important is to choose that which better meets the needs of the company and its clients. However, the multimodal option may be of benefit when we require more than one transport type and use our budget better.
Besides advising on which means of transport to hire, some logistics companies like Solistica also offer multimodal solutions to guarantee the delivery of products at the time and place required by the client.
*This blog was originally published on December 20 2018 and modified on April 16 2022.