The company is present in Mexico, Brazil, Colombia, Costa Rica, United States, Panama and Nicaragua. It offers 500K square meters of storage; carries out 1.9 million trips; owns 6.2K vehicles; employs 23K people; serves 4K customers; and delivers to 160K locations.
Solistica, a company in FEMSA's Strategic Business Division of, hosted the 2nd Clients Summit, an event organized to disclose the evolution of solutions.

Logistics that dominate global markets.
Certainty in the supply chain is what enables the development of global trade and maximizes business growth. Thus, infrastructure and technology are essential to ensure end-to-end logistics solutions, a sector in which Solistica – a subsidiary of FEMSA Group – is a leader not only in Colombia but throughout Latin America. Solistica, which has the support of FEMSA's 130+ years of experience, not only helped its parent company confirm its presence in six countries in the region but also became so trustworthy that was relied on to lead the evolution of the operations. Solistica organized the Clients Summit 2019, inviting over 180 top entrepreneurs in the pharmaceutical, retail, technology, health, food, beverage, and consumer goods sectors.
"Solistica created the Clients Summit to discover cutting-edge logistics solutions alongside the manufacturing sector by generating experiences that link the needs, desires and aspirations of customers to a comprehensive management of logistics; motivating them to grow and stay with our company as strategic partners," says Ana María León, Solistica's Commercial Director for the region. It is a statement backed by its more than 23,000 employees, who have the expertise and willingness to show there are no limits when it comes to solving the logistical challenges of more than 4,000 customers who believe in the company.

Contributing to national productivity
For Luis Humberto Eraña Arroyo, CEO of Solistica, "Colombia is growing more reliant on this type of forums, which encourage shared growth and exchange of ideas not only among large companies, but among all those that depend on increasingly efficient supply chain to grow hand in hand with employees, suppliers, and customers."
THE CLIENTS SUMMIT 2019 SOWED THE SEEDS TO EXPLORE ADVANCED LOGISTICS SOLUTIONS, GENERATING EXPERIENCES THAT LINK THE CLIENTS' NEEDS, WISHES, AND ASPIRATIONS TO A COMPREHENSIVE MANAGEMENT OF LOGISTICS.
Jorge Bayona, Solistica's Global Commercial Director, highlighted the importance of this invitation "it is the best way to connect manufacturing companies and leaders so that they get acquainted with all the options in our portfolio of end-to-end 3PL solutions and how to use them best."
Solistica's CEO reaffirms the company's full commitment to Colombia, a country global companies are looking at thanks to its leadership in the region, development, innovation, human talent, market, consumption, economic growth, and unbeatable location. It has the potential in the coming years to become a hub for exporting goods and services to the whole world, supported by tools such as e-commerce.
The strongest player

Solistica's goal for 2024 is to consolidate itself as the 3PL solutions leader in Colombia and Latin America, while continuing to grow at double-digit rates and getting returns from their investment in world-class facilities, technology and services. "In the market of outsourced logistics services there are many customers who do not know us yet. Therefore, there is a lot of room for us to grow and it does not depend on macroeconomic policies but on companies making a decision to focus on developing their core businesses while we take care of their needs with end-to-end logistics solutions," says Jorge Bayona, Solistica's Global Commercial Director. "It is also essential to have the best human talent available, capable of making more efficient the technology and innovation of our company, which is obviously betting on becoming the strongest and largest logistics company in the region, focusing on continuous quality, service, and offering a competitive cost. That's our measurable goal every year," says Luis Humberto Eraña Arroyo, CEO of Solistica.
SOLISTICA PROVIDES ECONOMIC AND SOCIAL VALUE THROUGH SOLUTIONS FOR THE SUPPLY CHAIN, WITH WORLD CLASS SERVICES FOR PHARMACEUTICAL, CONSUMER GOODS, PERSONAL HYGIENE, TECHNOLOGY, ELECTRONIC, AND AUTOMOTIVE SECTORS, AMONG OTHERS.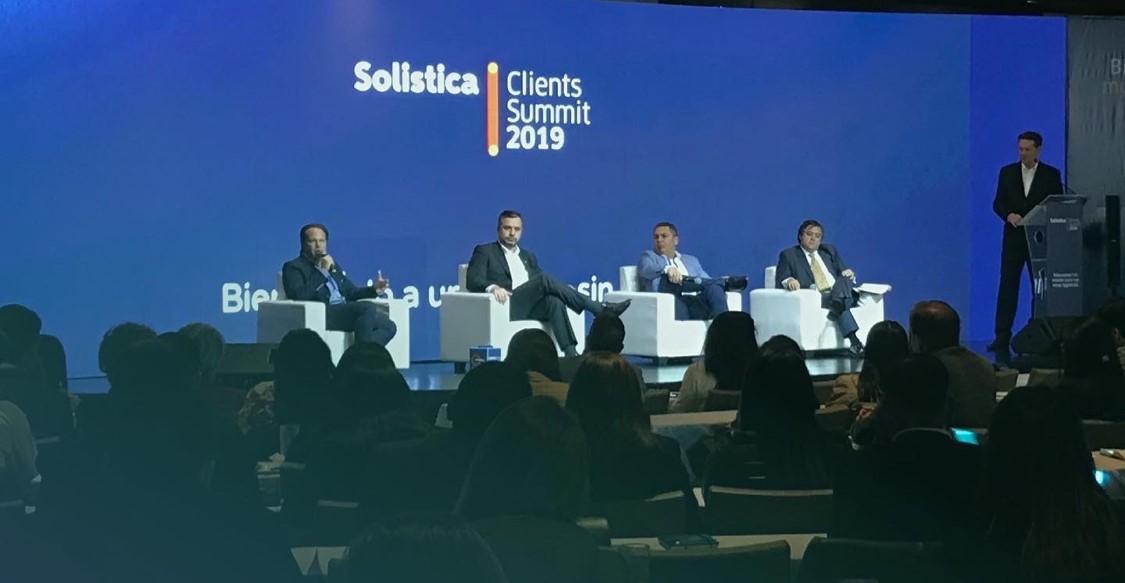 Solistica creates competitive advantages by designing customized comprehensive logistics solutions, including warehousing, transportation, distribution, added value, multimodal solutions, international logistics, and fleet maintenance. / Photos: Fernando Ayala
Clients Summit 2019
Ana María León, Regional Commercial Director
"Being a leader and a benchmark for Latin America, makes us responsible for staying up to date and setting the trends for the logistics sector. Listening to our customers and solving their logistical challenges with the talent of our human team, experience, and any resources needed to connect with our clients so we can fulfill our mission."
Cory Skinner CEO RoadLaunch Canada
"The future of finance is Blockchain, because it will help supply chains to keep 100% valid and reliable data, supported by tools such as the Internet of Things, smart contracts, and artificial intelligence. This will provide the necessary security to operate in real time processes such as billing, quoting, shipping, monitoring transportation statuses, and keeping records of transactions with full traceability, transparency, and confidence in the digital operations."
Luis Eraña, CEO of Solistica
"We must understand our cultures, our country, and be proud to compete with the best supply chains in the world. The only way for us to improve continuously is by paying attention to each other, understanding the requirements we have today and knowing how to interpret and anticipate those we will have in the future."
Andrés Ramírez, Happiness Consultant for Colombia and Latin America
"We need to create value through intangible business assets such as organizational culture, and we need to place dignity over work, because organizations today depend more on people than on data collection, which, thanks to the internet, is now public domain. We live in a world eager for technical knowledge, but fundamentally ethical and humane, that lacks the ability to relate and communicate ideas."
Juan Diego Alzate, Member of the International Chamber of Commerce
"What does the operational efficiency of the future depend on? The goal of supply chains is to maximize value, improve customer service, develop employees, and help the communities where businesses operate grow. The point is to make supply chains better, cheaper, or more productive. Customer satisfaction is the goal of logistics, which depends on a flexible structure to fulfill its strategy."
Daniel Samper Ospina, Journalist, Writer, YouTuber
"The time to evolve is now, and those who refuse will become extinct. The worst risk in life is, hands down, not taking any risks; and yet, we need to accept change while keeping our essence. A proof of this is my shameful evolution from journalist / writer to YouTuber; pounded by the digital revolution, I had no choice but to reinvent myself to keep earning a living."