When it comes to choosing which transportation to use in their logistics processes, companies should consider many variables, especially when the need to mix different means of transportation such as sea, land, and air, arises. Understanding the different existing modalities, their differences, advantages, and disadvantages, may help decide which is best for a specific company.
Choosing between intermodal and multimodal transportation depends on the most efficient combination of factors such as the products being shipped, places of origin and destination, distance, type of transportation needed (truck, train, plane, ship), delivery deadlines, costs, safety, control, and tracking.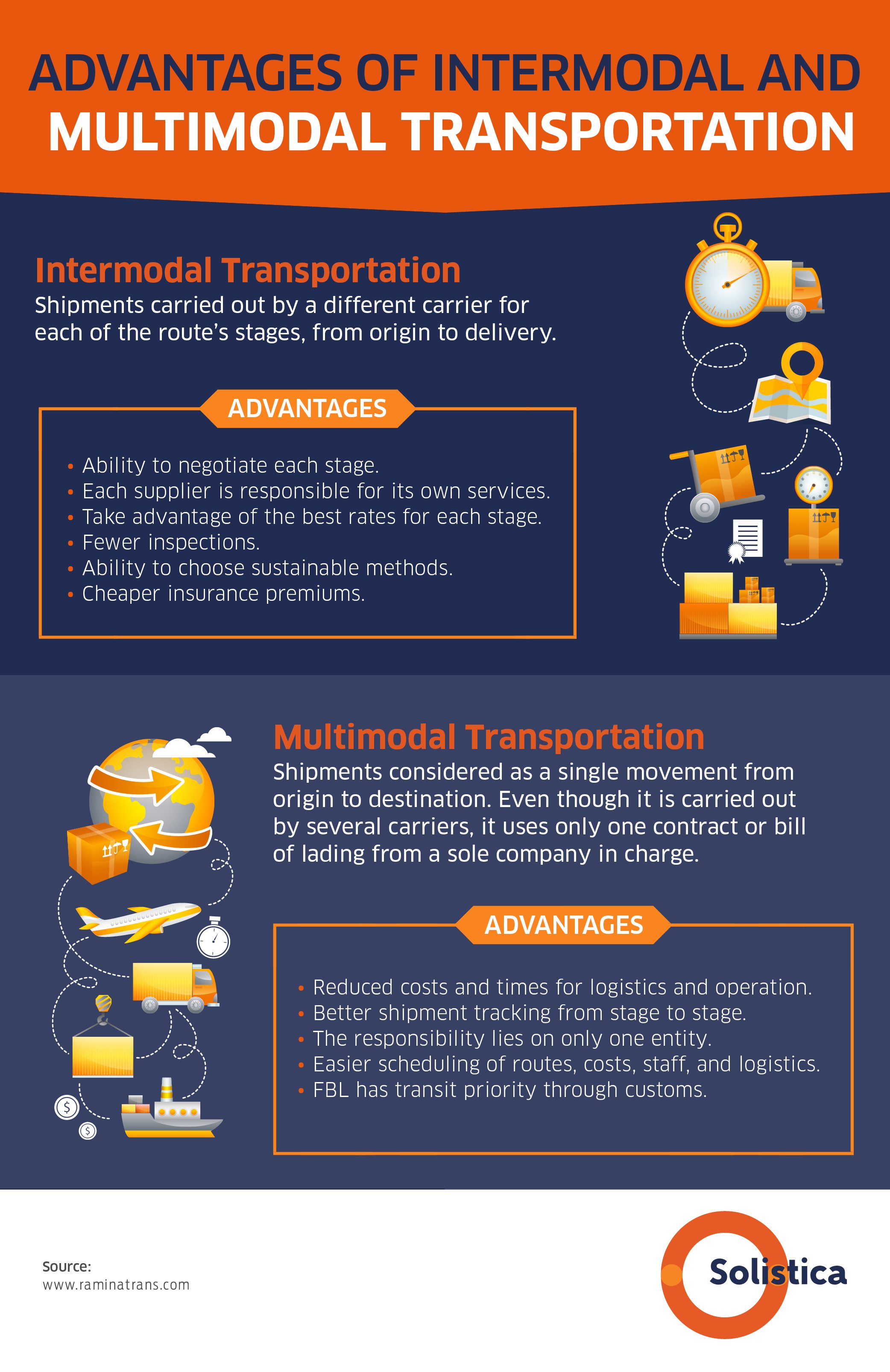 Intermodal Transportation
Refers to shipments carried out by a different freight company in each stage of the route, from origin to product delivery. Clients have a different contract or bill of lading for each supplier independently.
Advantages
Increased ability to negotiate terms per stage or stretch of the route.
Each supplier is responsible for its service.
Possibility to choose carriers and take advantage of the best rates for each stage or stretch of the route.
Fewer inspections because containers are sealed in advance.
Because everything is loaded in the same container, the time it takes for loading and unloading is lower.
Increased flexibility and special handling of loading and unloading in different ports.
Cheaper insurance premiums.
Disadvantages
Slower because cost reduction is prioritized.
Less reliability because there are several suppliers answering for their own services.
Tracking all the suppliers and coordinating solutions to delays with them.
More expenditures due to the need to coordinate several contracts with different suppliers.
The infrastructure that makes intermodal transportation easier for example, cranes for containers, is scarce and more expensive.
Additional packaging costs to mitigate damage when moving merchandise.
Multimodal Transportation
Refers to shipments considered as a sole movement between the origin and the destination which, although involving diverse carriers, consists of only one contract or bill of lading using a company in charge of transporting the merchandise along all the stages or stretches of the route.
This modality includes two options: companies who have all transportation means at an international level, and agents or multimodal transportation operators (MTOs) who outsource to carriers and whose function is to negotiate, monitor, and coordinate loading, unloading, and delays. Even though these MTOs manage a contract with each supplier, the client signs only one bill of lading (FIATA Bill of Landing, or FBL) with the agent, regardless the number of means of transport involved.
Advantages
Reduction in the costs and time for coordination and operation of logistics.
Increased monitoring of shipments from stage to stage.
There is only one company in charge of meeting the shipment deadline; therefore, there is better control on management and less risk of merchandise theft or loss while responsibility lies on just one entity.
Scheduling routes, costs, staff, and logistics becomes easier.
The FBL customs document has preference to enter and go through customs.
Disadvantages
The merchandise may encounter legal and operational limitations when international standards are applied.
For safety reasons, inspections in terminals are frequent, which limits operations.
Before choosing a modality, companies should assess some issues such as the number of contracts it wishes to handle, global costs, impact on inventories, delivery times, administrative coordination, and environmental impact.
Whether they prefer intermodal or multimodal transportation, companies with logistics services and/or operations need a Transport Management System (TMS) that helps them to choose suppliers according to costs, times, and other issues to consider. TMSs allow companies to carry out route scenarios and track better. Most of these platforms have coordination capacities with, and between, carriers and make managing contracts easier.
Some specialized logistics companies, such as Solistica, offer multimodal solutions like land and rail distribution in Mexico, the United States, and Canada; access to the main shipping lines; Full Container Load and Less than Container Load transportation; air freight; customs management; and storage in proposal, looking to meet the specific logistics needs of each company.
*This blog was originally published on December 14 2018 and modified on April 13 2022.