When managing a warehouse or distribution center with different processes and products, having an efficient operation translates into higher profits.
To become more profitable, the warehouses of large companies are beginning to automate their processes using specialized technologies and software.
One of the goals of automating our warehouse is to expedite the reception, processing, storing, and shipment of goods so we can achieve a more efficient distribution that results in a lower goods return rate.
This demands us to completely change the way we see storage, shunning our vision of it as just a place to keep, load, and unload goods to a new concept with new infrastructure and layout, equipped with state-of-the-art logistics technology.
Little by little, we are witnessing how these technological solutions for storage are beginning to change the way we work at distribution centers, expediting the transit of goods through these facilities.
These technologies range from robots for handling goods to specialized software for a tighter inventory management.
When to automate warehouse tasks?
The decision to have an automated warehouse must be based not only on financial considerations but on aspects that have a direct impact on its operation.
We justify the cost of installing the necessary equipment and software for automation when:
The volume and transfer of goods is high.
We manage a wide assortment of products.
We pick orders or consolidate cargo that requires product classification and sorting.
We aim to improve the process to reduce costs.
We need to make the best use of the space with vertical solutions.
We wish to keep a tighter inventory control that allows us to use just-in-time logistics.
We believe it will take less than four years to see returns on our investment.
Which benefits does it contribute to logistics?
The goal of automating our warehouse is to increase its efficiency. The following are some of the benefits we can get:
Uninterrupted operations as they are not limited by the staff's shifts and capacity.
Decrease in labor costs as we don't need as many employees to carry out the warehouse's tasks.
Less accidents and health issues, and safer work conditions for the warehouse's staff and drivers.
Precise knowledge of stock levels, avoiding shortages, overstocking, and obsolescence.
Optimization of warehouse space through the application of tall vertical systems.
Decrease of maintenance costs by decreasing events that result in damage to infrastructure or goods.
Increased safety and less contamination of cargoes since it is no longer handled by humans.
Elimination of human error in documentation that may translate into delays while processing goods.
Improvement of delivery times and accuracy.
Higher specialization and training of labor, which makes it more professional, efficient, and productive.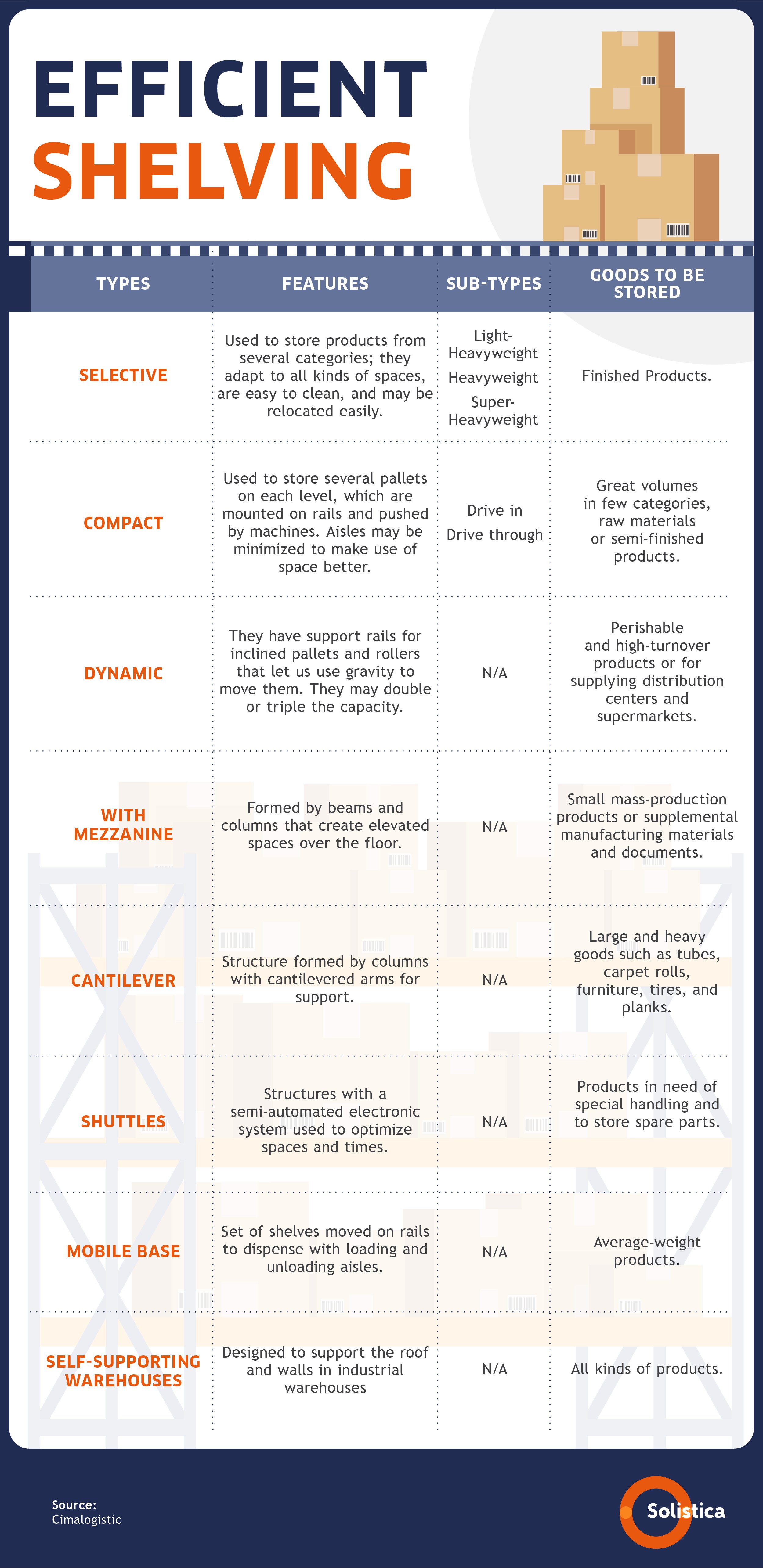 What are AS/RS systems?
As part of the changes in warehouse operations, we are also introducing systems based on new technologies such as the Automated Storage/Retrieval System, AS/RS, which consists in automating the loading, classification, storage, and shipping processes by using robots and management software.
This automated gathering and storage system lowers the need for labor and increases productivity and efficiency because it can operate continuously to guarantee the job is done well and in time.
The concept behind this system is to stop employees from gathering and loading products and have robotic forklifts and automated sorting and distribution conveyors to deliver goods to employees in the shipping area.
This saves time for our employees and lessens their tiredness, making them more efficient and able to focus on other activities that increase productivity.
Which technological solutions are available to us?
Some technological solutions have already been implemented in the market while others are in line to be incorporated to the infrastructure of warehouses. The following are some of the technologies we can use to improve efficiency:
Management and control software
The former records the entry of the cargo, assigns space to it, and monitors it until it leaves the warehouse while the latter controls the robotic equipment's movements.
Using both systems allows us to use storage space better, ensures the reliability of data, and makes it easier to track and handle products.
Stacker cranes
Stacker cranes are automated units used to set and retrieve products from shelves, they are the basis for AS/RS systems.
Stacker cranes are robotic cranes installed on aisles between shelves to gather and transport loads to and from the header and their assigned space.
The slimness of these automated forklifts allows for a closer positioning of shelves, lets them travel over greater distances and reach higher, which makes them useful for optimizing the use of storage space.
Pick to Light, PTL
Nothing comes handier than this light-guided system when we need to pick diverse items consistently. It consists of a display in the shelves that lights up to indicate the item to pick and its quantity.
We can use its "pick" mode to take items from a fixed place and place them on a conveyor belt, or we can use its "put" mode to take items from a moving box and place them on a fixed position.
The employee only needs to push a button to confirm the action has taken place and the system automatically updates the stock, so the inventory is always up to date.
We use this system mainly to gather products with high or average turnover because it offers great accuracy and a tidy inventory management. Besides increasing productivity by at least 50%, it also improves customer service because the elimination of mistakes results in less returns of products and, therefore, in lower costs.
Pick to Voice, PTV
A variant of PTL systems, using voice instead of light displays to guide the picking of items.
In this case, employees follow the orders they receive over their hand-free systems, so they are to handle products carefully.
This system also lowers human errors and saves time by making the handling of inventory easier.
Sortation Systems
These systems make it easier for us to pick, sort out, and fill out orders using conveyor belts and a control software that improves speed and accuracy.
More fluidity of processes, reliability in picking, real-time visibility and traceability of products, time savings, and elimination of mistakes, are some of the benefits of these systems.
They can process 300 parcels per minute with a 99.9 accuracy rate thanks to their software-controlled and automated operation.
Shuttle Vertical Lift Module, VLM
VLM is a solution for storing small and expensive items in countless racks within an automated unit.
You input the orders for picking in a display and distribute them through an ergonomic window.
Inventory is updated in real time and we control access to the system through personal IDs that stop unauthorized individuals from manipulating it.
Vertical and horizontal carrousels
Racks are positioned to rotate vertically or horizontally to give employees access to the requested items via a slot.
Inventories are updated in real time, we lower space use up to 60%, and raise productivity up to 600% with some types of carousels.
AGV System
This system of automated vehicles consists of small wagons or forklifts that transport products around the warehouse.
They can move directly or stop to gather more items or perform assembly operations.
Because these are independent vehicles, they do not need fixed facilities such as conveyor belts; therefore, they don't affect other activities in the warehouse.
Either by using magnetic tapes and readers, or reflectors and laser beams, AGVs follow the routes as laid and programmed by the control software.
Conveying System
This is a system of conveyor belts that carry materials from one manufacturing line to the next and then, as finished products, to the warehouse for shipping.
These systems contribute fluidity to the manufacturing process and make the classification and sorting of products more reliable, thus saving time and making fewer mistakes.
Loading and unloading systems
These are of great use to expedite the reception and shipping processes and to demand less physical effort from our staff.
These systems consist of belts or rollers that put products in motion; we can retract or extend them as the loading and unloading of products progresses.
Warehouse automation is a technological trend; step by step, it is becoming a reality and changing logistics throughout the world.
Its advantages, summarized in increased productivity and efficiency, promise lower operational and labor costs and increased profitability. Its adoption, even though slow, will become essential for companies with distribution centers looking to increase their productivity and competitiveness.
*This blog was originally published on December 20, 2018 and modified on June 2nd 2022.